Date and time
Wed, February 16, 2022
6:00 PM – 9:00 PM PST
Location
The KNOW Contemporary
422 South Alameda Street
Los Angeles, CA 90013
A dynamic group exhibition featuring 10 of the most prominent emerging Black contemporary artists and their use of the color BLACK.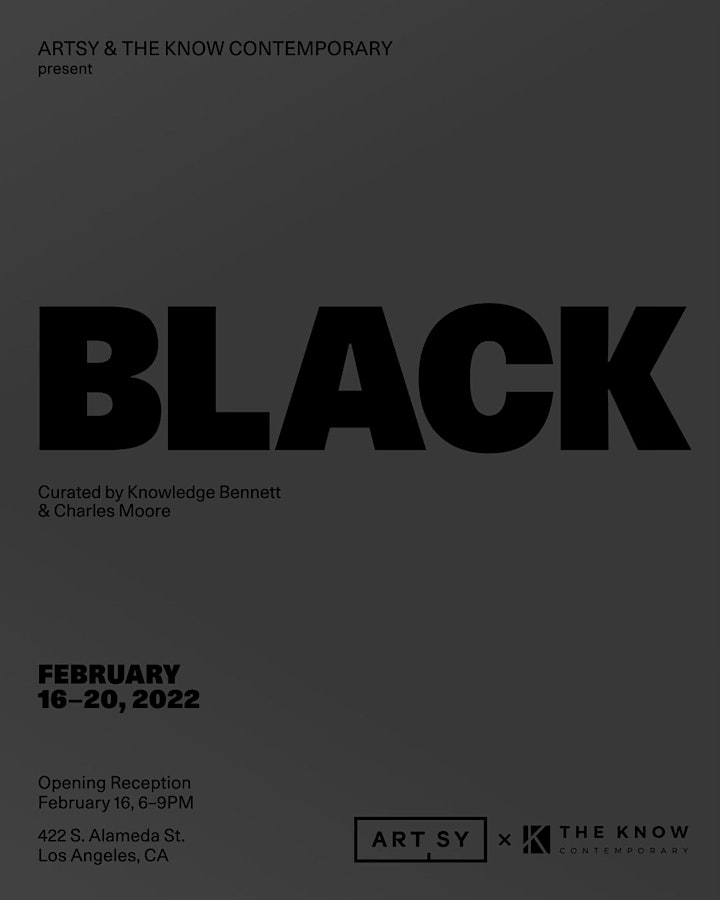 Artsy x The KNOW Contemporarypresent BLACK, a group exhibition curated by visual artist and founder of The KNOW Contemporary, Knowledge Bennett and author and art historian Charles Moore. The exhibition features paintings, mixed-media works and sculpture by 10 of today's leading emerging contemporary Black artists. The exhibit runs from February 16-20, 2022 with an opening reception on February 16th, 6-9PM.
One of the first and most widely used pigments by humans to express themselves, the color black has come to denote many things to different cultures throughout time. Be it death, mourning or darkness, elegance, wealth or power, black symbolizes a variety of ideas.
BLACK, the exhibition, examines the multiplicity of ways artists employ its color to convey intriguing visual concepts. Participating artists, working across various media include Patrick Alston, Anthony Olubunmi Akinbola, Knowledge Bennett, Lindsey Brittain Collins, Ryan Cosbert, Kim Dacres, Muna Malik, Ashanté Kindle, Ronnie Robinson, and Paul Anthony Smith.
The first 100 people to arrive and show proof of having the Artsy app will receive a free Artsy swag bag.
For more information please contact info@theknowcontemporary.com.