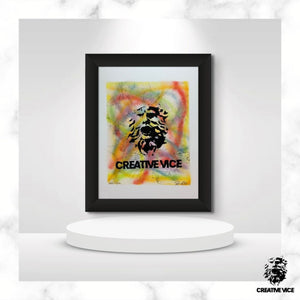 ATOMIC ATOM
Regular price $450.00 $450.00 Sale
ATOMIC ATOM
Artist: Creative Vice 
Medium:  Serigraph Hand Painted Multiple  
Colors: 7 Incrusted in Black Diamond Dust
Substrate: Coventry Rag 270 g/sm
Size: 18″ x 24″  straight edge
Signed and Numbered Edition: 28 
Signed in 18k Gold  

Hand painted by the artist @creativevice Comes with custom Italian black frame design by our master wood-smith ! #Repost @creativevice
ATOMIC ATOM, an explosion of color. Color is something i use in all of my pieces, it's literally part of my DNA."
The "Ethos" collection is a 32 piece hand-painted multiple collaborative.
"Ethos" is my logo, my identifying factor is based on the idea that we all can create and be free. The face to me represents a god and I personally believe since they say we are made in gods likeliness we are all our own gods. everyone is always searching for god and answers when all they really have to do is look within themselves. Each piece in this collection represents different feelings and emotions. So be a god of your own creation.
#abstractart #abstractpainting #acrylicpainting #supportblackartist #blackartist #artistoninstagram #contemporaryartist #abstractartist #artworkoftheday #contemporaryart #art #emergingartist #layers