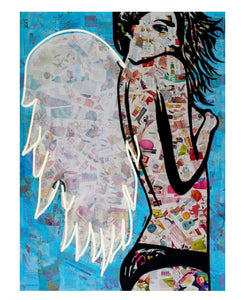 Baby Blue By Amy Smith
Regular price $9,500.00 Sale
36 x 48 x 3
Financing Available! Free Shipping!
Beautiful NEÓN 
Baby Blue" is an enchanting and captivating piece of art created by the talented artist Amy Smith. This mesmerizing artwork, available as an original piece, reflects the artist's exceptional skill and creative vision.
AMY SMITH
CONTEMPORARY,
MIXED-MEDIA ARTIST
FIGURATIVE PAINTER, PORTRAITIST,
POP ARTIST, MURALIST
Amy Smith's masterful use of color adds depth and dimension to the artwork. Soft, pastel hues blend seamlessly with vibrant shades, creating a harmonious palette that enhances the overall dreamy ambiance of the piece. The interplay of light and shadow further accentuates the wings, casting a subtle glow that adds an ethereal quality to the artwork.
It evokes feelings of lightness, joy, and the limitless possibilities of the imagination. The artwork invites viewers to embark on a journey of introspection and contemplation, encouraging them to explore their own dreams and desires.
"Baby Blue" is an exquisite piece that will undoubtedly make a stunning addition to any art collection. It serves as a timeless reminder of the beauty that exists within our dreams and the power of imagination to transport us to extraordinary realms.