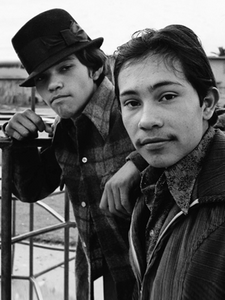 Homeboys, Luis Garza
Regular price $500.00 $500.00 Sale
Homeboys 
Product Details
Artist:Luis Garza
Medium: Hand Pulled Multiple 
Colors: 1
Substrate: Coventry Rag 290 g/sm
Size: 22" x 30"
Black and White Edition: 50
Hand Painted edition: 30 
Signed and Numbered with charcoal 

Luis C. Garza, Homeboys, Aliso Village / Pico Gardens housing projects, Boyle Heights, East L.A., 1972. 

Luis C. Garza began his artistic career as a photojournalist recording the tumultuous social events of the 1960s and 1970s for La Raza magazine—the journalistic voice of the Chicano movement in Los Angeles. During that time, he was a film and theater arts student at UCLA whose images captured the attention of television executives, leading to his new career as a producer-director for the Emmy-award series Reflecciones/Reflections, and over 50 documentary projects and primetime shows for Los Angeles affiliates of ABC and NBC, including a one-hour special for the exhibition Treasures of Mexico from the Mexican National Museums, which was broadcast live from the Los Angeles County Museum of Art (LACMA) in 1978.
His endeavors then led him to the Mark Taper Forum, where he was PR & Special Market Director for the groundbreaking production of Luis Valdez's play Zoot Suit. For the American Film Institute, he coordinated L.A. Freewaves, a first-ever exhibition of independent video artists. For the City of Los Angeles, he co-produced a two-week gala at 100 venues in celebration of 1,500 artists from Los Angeles, Asia, Latin America, Oceania, and Antarctica. As a consultant for the Getty Conservation Institute during 1994-1997, he served as a liaison to the City of Los Angeles, El Pueblo de Los Angeles Historical Monument, and the community at-large, researching and facilitating the relations between all concerned in restoring América Tropical – the seminal work of art created by Mexican artist David Alfaro Siqueiros – to public view.
Garza collaborated with UCLA Chicano Studies Research Center and the Autry Museum of the American West to curate La Raza for the Getty's Pacific Standard Time: LA/LA through February 10, 2019. The exhibition draws from an archive of 20,000+ negative film images focusing on how a distinctive "Chicano eye" contributed to the struggle for social equality and justice. (Details at https://theautry.org/exhibitions/la-raza.)