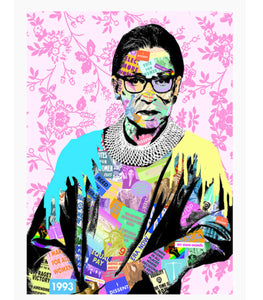 RBG
Regular price $490.00 $490.00 Sale
Amy Smith
Medium: Mix Media
Colors: 10
Substrate: Coventry Rag 270 g/sm
Size: 24 x 18 straight edge
Signed and Numbered Edition: 20
 RBG by @amysmithart Comes with certificate of authenticity. We could not be more proud to put our chop on the AOC edition.
Ruth Bader Ginsburg spent much of her legal career as an advocate for gender equality and women's rights, winning many arguments before the Supreme Court. She advocated as a volunteer attorney for the American Civil Liberties Union and was a member of its board of directors and one of its general counsel in the 1970s. In 1980, President Jimmy Carter appointed her to the U.S. Court of Appeals for the District of Columbia Circuit, where she served until her appointment to the Supreme Court in 1993. Between O'Connor's retirement in 2006 and the appointment of Sonia Sotomayor in 2009, she was the only female justice on the Supreme Court. During that time, Ginsburg became more forceful with her dissents.
Ginsburg received attention in American popular culture for her passionate dissents in numerous cases, widely seen as reflecting paradigmatically liberal views of the law. She was dubbed "The Notorious R.B.G."
#print #fineart #museam #RBG #RuthBaderGinsburg #equality #mobyartsla #moby