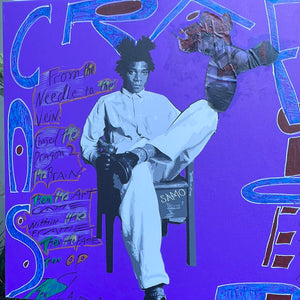 SAMO By Angelo Moore
Regular price $2,900.00 Sale
Canvas original of Basquiat -SAMO 
Jean-Michel Basquiat (French: [ʒɑ̃ miʃɛl baskja]; December 22, 1960 – August 12, 1988) was an American artist who rose to success during the 1980s as part of the Neo-expressionism movement.
Basquiat first achieved fame as part of the graffiti duo SAMO, alongside Al Diaz, writing enigmatic epigrams in the cultural hotbed of Manhattan's Lower East Side during the late 1970s, where rap, punk, and street artcoalesced into early hip-hop musicculture. By the early 1980s, his paintings were being exhibited in galleries and museums internationally. At 21, Basquiat became the youngest artist to ever take part in documentain Kassel. At 22, he was one of the youngest to exhibit at the Whitney Biennial in New York. The Whitney Museum of American Art held a retrospective of his artwork in 1992.
Basquiat's art focused on dichotomies such as wealth versus poverty, integration versus segregation, and inner versus outer experience. He appropriated poetry, drawing, and painting, and married text and image, abstraction, figuration, and historical information mixed with contemporary critique. He used social commentaryin his paintings as a tool for introspection and for identifying with his experiences in the Black community, as well as attacks on power structures and systems of racism. His visual poetics were acutely political and direct in their criticism of colonialism and support for class struggle.

More About Angelo Moore;
Angelo Moore is the legendary frontman of Fishbone and known for his explosive on-stage presence, amazing vocal talents, and mad musical skills on saxophone, theremin and Hammond B3. Considered by many to be the world's greatest frontman, Angelo's musical talent knows no boundaries. While actively touring with Fishbone, Angelo also performs as Dr Maddvibe, and also tours with new group called Angelo Moore & The Brand New Step that performs regularly in the United States and has toured to Taiwan and Japan. The Brand New Step is on Rope-A-Dope records in Philadelphia and includes as guests and touring musicians Claude Coleman Jr (Ween), Hashish Vyas( thievery corporation), Stanton Moore and Robert Mercurio(galactic), Butterscotch, Jim Greer( Rondo Brothers) , Kris Jensen, DJ Q-Bert, JJ Jungle and Hassan Hurd (The Coup) and many more.